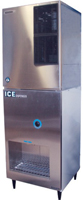 Mine Site Industrial Sealed Ice Machine
Energy & Cost Saving Efficiency
Due to the collaboration of latest Hoshizaki technology and accelerated harvest assist feature that pre-defrost of ice melts cycle from evaporator plate
Self Monitoring Technology
M series external operation indicator lights continually communicate the machine's current status for complete confidence in its ice making capabilities.
Quiet and Easy Access servicing
With a reliable fan blade and motor design, quieter compressors, and a special sound shield, M series cube machine reduce the noise of ice making versus world's traditional model. Easily monitor status without opening up the panel Unique fan blade design helps reduce noise.
Fully insulated storage bin of 80kg
Pushbutton single auger agitator dispenses ice at 5kg per minute
Sealed construction to eliminate external contamination of stored ice
Dispensing chute designed to accept Willow 10-litre water jugs
Many filtration options available depending on site requirements, including ultra violet (UV) sterilisation.