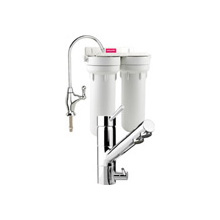 Product code:

1392FS23F
Premium Twin & Copper Reduction Undersink Systems
The increase of pollutants which are finding their way into our water supply are causing consumers to demand products that filter our drinking water to ensure it is pure and clean.
At water2water, our Premium Twin Undersink Systems filter out harmful bacteria, viruses, pesticides, herbicides and more importantly harmful chemicals.
Despite being thoroughly filtered, our Premium Twin System allows your tap water to retain important minerals that the body needs, including fluoride.   See also our Premium Twin CC1 (copper reduction) Undersink System that will also filter out 99% of copper.
What's more, no water is wasted during the filtration process.
However we are also able to substantially reduce fluoride should this be your preference.
Purifies water of bad taste, chlorine, pesticides, herbicides, lead, asbestos, crypto and giardia.
Purified water retains beneficial natural minerals.
Extra copper reduction filters are available.
Optional undersink chillers so you can have chilled & ambient water at your fingertips.
We can retain or substantially reduce fluoride, the choice is yours!
Also available with Sparkling Water for your home or Office.
Optional choice of faucets