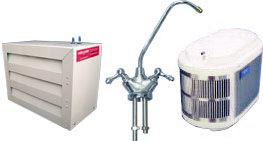 Undersink Cool/Cold Chiller Systems
Australian designed and manufactured, this compact, energy efficient and quiet operating unit is the obvious choice for household applications.
The IC-8 Remote Undersink Chiller or the larger capacity TLS16 can be installed in small spaces in conjunction with any water filtration system from the simple in-line filters to reverse osmosis systems.
Ambient and cold water from a single faucet – Now with two dual faucet options available!